2012.02.25 (Saturday) :: Alpha 4.1 Released
I got a couple requests for larger kanji, so I bumped up some settings to alpha 4.1 instead of alpha 6. In the process, I also found out that Qt tooltips can only support fonts up to "size=6", which is pretty lame for my purposes here. As such, I created a custom tooltip for the Character Results only; Word Results will be coming soon.
Try JLookUp2 alpha 4.1 for Windows and Linux and let me know how it goes!
(New) random things about JLookUp 2:

There is a "Settings" window.
Font size changes will be saved.
The Character Results have a much better tooltip.
Here is a screenshot showing the new tooltip.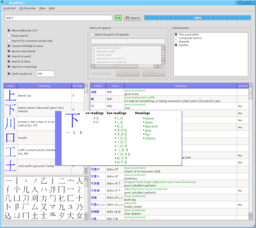 2021
| 06 || 05 |
| 04 || 03 || 02 || 01 |
2020
| 12 || 11 || 10 || 09 |
| 08 || 07 || 06 || 05 |
| 04 || 03 || 02 || 01 |
2019
| 12 || 11 || 10 || 09 |
| 08 || 07 || 06 || 05 |
| 04 || 03 || 02 || 01 |
2018
| 12 || 11 || 10 || 09 |
| 08 || 07 || 06 || 05 |
| 04 || 03 || 02 || 01 |
2017
| 12 || 11 || 10 || 09 |
| 08 || 07 || 06 || 05 |
| 04 || 03 || 02 || 01 |
2016
| 12 || 11 || 10 || 09 |
| 08 || 07 || 06 || 05 |
| 04 || 03 || 02 || 01 |
2015
| 12 || 11 || 10 || 09 |
| 08 || 07 || 06 || 05 |
| 04 || 03 || 02 || 01 |
2014
| 12 || 11 || 10 || 09 |
| 08 || 07 || 06 || 05 |
| 04 || 03 || 02 || 01 |
2013
| 12 || 11 || 10 || 09 |
| 08 || 07 || 06 || 05 |
| 04 || 03 || 02 || 01 |
2012
2011
2010
| 12 || 11 || 10 || 09 |
| 08
|| 07 || 06 || 05 |
| 04 || 03 || 02 || 01 |
2009
| 12 || 11 || 10 || 09 |
| 08 || 07 || 06 || 05 |
| 04 || 03 || 02 || 01 |
2008
| 12 || 11 || 10 || 09 |
| 08 || 07 || 06 || 05 |
| 04 || 03 || 02 || 01 |
2007
| 12 || 11 || 10 || 09 |
| 08 || 07 || 06 || 05 |
| 04 || 03 || 02 || 01 |
2006
| 12 || 11 || 10 || 09 |
| 08 || 07 || 06 || 05 |
| 04 || 03 || 02 || 01 |
2005
2004