2011.10.03 (Monday) :: Radical lookup!
I've spent the last month working on getting radical-lookup back into JLookUp. As far as I can tell, JLookUp2's radical lookup is just as good as that of classic JLookUp, if not better. Not only can it look up kanji from radicals, but it can also select (in the radical table) the radicals for any given kanji, making it easier to find similar kanji.
Anyway, get JLookUp2 alpha 3.0 for Windows and Linux and let me know how it goes!
Screenshot!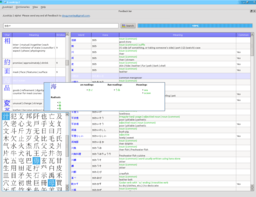 2021
| 06 || 05 |
| 04 || 03 || 02 || 01 |
2020
| 12 || 11 || 10 || 09 |
| 08 || 07 || 06 || 05 |
| 04 || 03 || 02 || 01 |
2019
| 12 || 11 || 10 || 09 |
| 08 || 07 || 06 || 05 |
| 04 || 03 || 02 || 01 |
2018
| 12 || 11 || 10 || 09 |
| 08 || 07 || 06 || 05 |
| 04 || 03 || 02 || 01 |
2017
| 12 || 11 || 10 || 09 |
| 08 || 07 || 06 || 05 |
| 04 || 03 || 02 || 01 |
2016
| 12 || 11 || 10 || 09 |
| 08 || 07 || 06 || 05 |
| 04 || 03 || 02 || 01 |
2015
| 12 || 11 || 10 || 09 |
| 08 || 07 || 06 || 05 |
| 04 || 03 || 02 || 01 |
2014
| 12 || 11 || 10 || 09 |
| 08 || 07 || 06 || 05 |
| 04 || 03 || 02 || 01 |
2013
| 12 || 11 || 10 || 09 |
| 08 || 07 || 06 || 05 |
| 04 || 03 || 02 || 01 |
2012
2011
2010
| 12 || 11 || 10 || 09 |
| 08
|| 07 || 06 || 05 |
| 04 || 03 || 02 || 01 |
2009
| 12 || 11 || 10 || 09 |
| 08 || 07 || 06 || 05 |
| 04 || 03 || 02 || 01 |
2008
| 12 || 11 || 10 || 09 |
| 08 || 07 || 06 || 05 |
| 04 || 03 || 02 || 01 |
2007
| 12 || 11 || 10 || 09 |
| 08 || 07 || 06 || 05 |
| 04 || 03 || 02 || 01 |
2006
| 12 || 11 || 10 || 09 |
| 08 || 07 || 06 || 05 |
| 04 || 03 || 02 || 01 |
2005
2004