2011.11.12 (Saturday) :: Alpha 4.0 Released
Ever since the JLookUp 2.0 alpha started, the one thing that I've been asked to bring back has been the IME. And so, today, I am happy to say that it is back, and hopefully better than ever! Alpha 4.0 brings back the IME (activated either by clicking the "IME" button, or through "CapsLock" or "F2"), as well as adding some copy functionality. I fixed a flaw in English searches, and, with the introduction of the IME, I have defaulted the settings to search anywhere for anything.
Try JLookUp2 alpha 4.0 for Windows and Linux and let me know how it goes!
Random things about JLookUp 2:

Any tweaks that you do to the window (resizing bars, etc.) will be saved in "preferences.ini" for next time.
Any of the settings on the left-hand side of the search area will be saved.
The IME state will be saved.
Dictionaries and their states will be saved.
The IME may be activated by pressing F2 or CapsLock when the search box has focus, or when the IME button is clicked.
If you ever screw up the settings really, really badly, then you may either remove "preferences.ini" or replace it with "preferences.ini.initial".
Here is a screenshot showing the new IME button.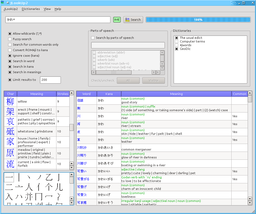 2011.11.07 (Tuesday) :: Site changes / Download image
Every once in a while I do something to show that I am at least thinking about the current state of the Internet, and JLookUp itself.
Today, I finally began to restructure the site to move some of the JLookUp "classic" things into their own area. Soon, JLookUp 2.0 will have the limelight, getting its own documentation, screenshots, etc.
I also realized that the "download" pages were really, really hard to figure out from a click-click-boom point of view. I made the "download" page a very simple page with some pretty icons and very few words. The old "download" page is now "download-classic".
See? Look: a new button:


2011.11.02 (Wednesday) :: Alpha 3.1 Released / Alpha Roadmap
I've gotten a bit of feedback on the alpha so far. It appears to be that the number-one thing that it's missing is the built-in IME; I suppose that since I don't need it anymore, I figured that I could take care of it on the later side of things. This does not appear to be the case, and, as such, I will be devoting Alpha 4 to having a working, native IME in place again.
On a lighter note, in the newly released alpha 3.1, the major changes made to the window (size, what divider-bars are where, etc.) are saved upon close, and restored upon open. In addition, ROMAji searches are now supported (and default).
As always, try JLookUp2 alpha 3.1 for Windows and Linux and let me know how it goes!
2021
| 06 || 05 |
| 04 || 03 || 02 || 01 |
2020
| 12 || 11 || 10 || 09 |
| 08 || 07 || 06 || 05 |
| 04 || 03 || 02 || 01 |
2019
| 12 || 11 || 10 || 09 |
| 08 || 07 || 06 || 05 |
| 04 || 03 || 02 || 01 |
2018
| 12 || 11 || 10 || 09 |
| 08 || 07 || 06 || 05 |
| 04 || 03 || 02 || 01 |
2017
| 12 || 11 || 10 || 09 |
| 08 || 07 || 06 || 05 |
| 04 || 03 || 02 || 01 |
2016
| 12 || 11 || 10 || 09 |
| 08 || 07 || 06 || 05 |
| 04 || 03 || 02 || 01 |
2015
| 12 || 11 || 10 || 09 |
| 08 || 07 || 06 || 05 |
| 04 || 03 || 02 || 01 |
2014
| 12 || 11 || 10 || 09 |
| 08 || 07 || 06 || 05 |
| 04 || 03 || 02 || 01 |
2013
| 12 || 11 || 10 || 09 |
| 08 || 07 || 06 || 05 |
| 04 || 03 || 02 || 01 |
2012
2011
2010
| 12 || 11 || 10 || 09 |
| 08
|| 07 || 06 || 05 |
| 04 || 03 || 02 || 01 |
2009
| 12 || 11 || 10 || 09 |
| 08 || 07 || 06 || 05 |
| 04 || 03 || 02 || 01 |
2008
| 12 || 11 || 10 || 09 |
| 08 || 07 || 06 || 05 |
| 04 || 03 || 02 || 01 |
2007
| 12 || 11 || 10 || 09 |
| 08 || 07 || 06 || 05 |
| 04 || 03 || 02 || 01 |
2006
| 12 || 11 || 10 || 09 |
| 08 || 07 || 06 || 05 |
| 04 || 03 || 02 || 01 |
2005
2004